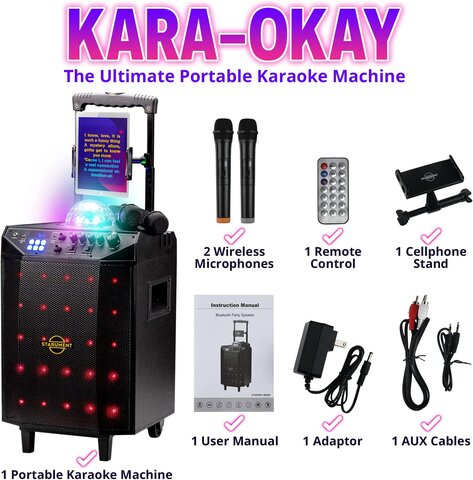 Karaoke
Actual Size: LENGTH (IN) 8.59 WIDTH (IN) 9.01 HEIGHT (IN) 13.42 WEIGHT (LB) 6.61




Premium Audio Quality - Even at full volume this wireless karaoke machine plays out pure, crisp music consistently. You won't have to worry about distorted music when you crank up the volume.
Everything You Need to Jam - Built with an LED speaker light, 2 tweeters, 2 wireless microphones, and a disco ball, this TWS portable speaker and karaoke machine puts on an unforgettable show.
Multi-Input Options - Engineered with true wireless technology, this machine connects to any device via Bluetooth. But that's not all–it also accepts USB, TF card, AM, FM and AUX sources.