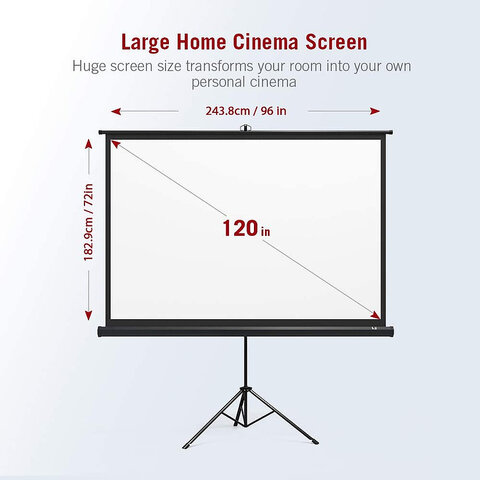 Movie Screen
Actual Size: (Product Dimensions: 96 x 110 inch in use/104 x7.5 x5 inch in package




Bottom-roll design making it unfolds and snaps into place easily, comes with everything for setup, no screws necessary. Note: projector screen components are fragile and should be handled with care.
This outdoor projector screen features a 160-degree viewing angle and 1.1 gain that creates a true in-home theater experience, ideal for watching movies, gaming, and giving visual-heavy
presentations
With adjustable height, you can enjoy this projection screen in standard 4:3 or widescreen 16:9 aspect ratios, and it won't distort the pictures. Perfect for any home theater or business projector.
'It is recommended to use the screen on a flat ground and stay away from blowing wind; if there is wind, secure the screen to wall/tree etc. With ropes to prevent it from shaking side to side or being knocked down.